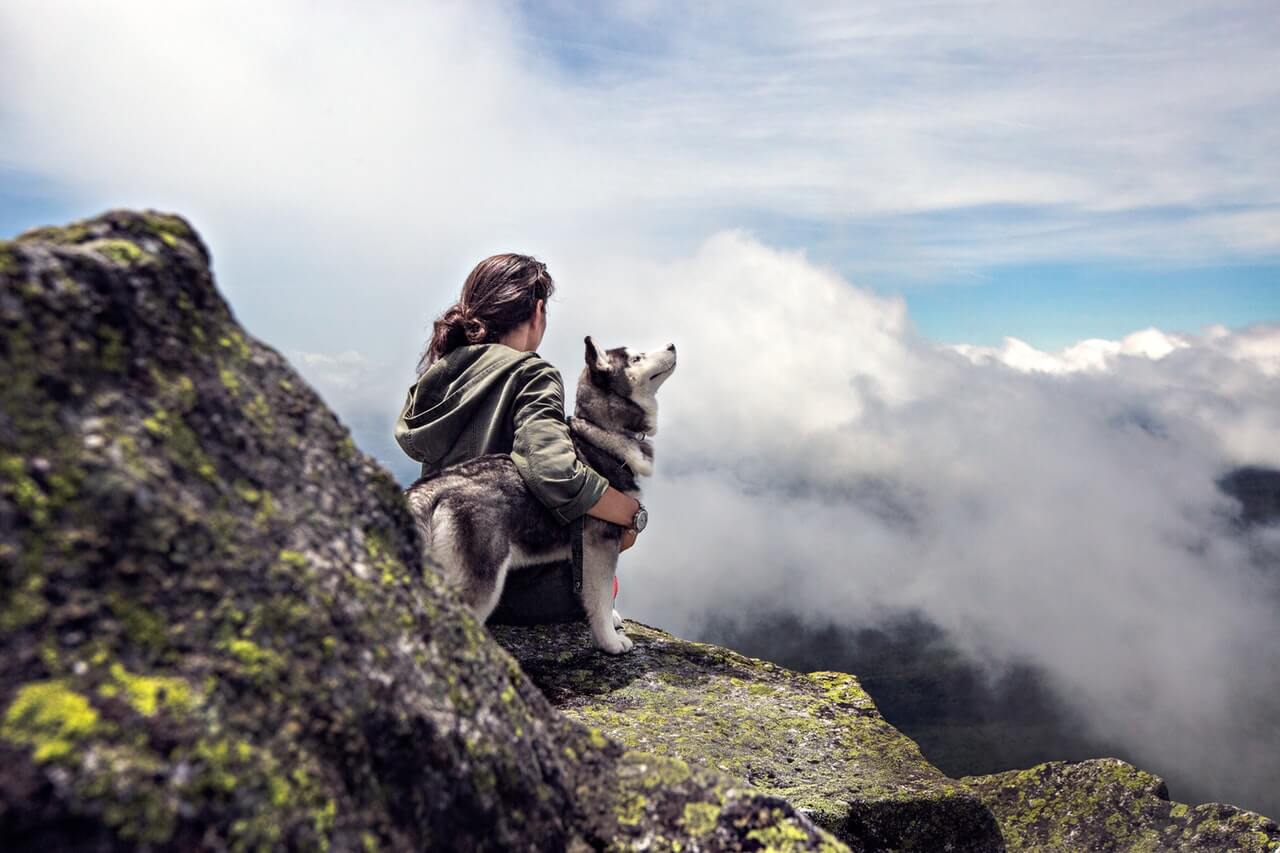 Traveling with a dog on a plane is a dream for most pet owners, but legally available for people with a service dog. Service dogs, individually trained to do work or perform special tasks for people with visible or invisible disabilities, have the right to access most public places, including airports, airplanes and other buildings where pets are not allowed. For example, service dogs can alert and protect people who are having a seizure, remind their owner of oncoming mental illnesses (such as social anxiety and PTSD), and alert the owner to taking the prescribed medication. In the past, however, service dogs were not allowed to accompany their owner into the cabin of the aircraft, which caused problems and inconvenience to disabled passengers. Thankfully, the Air Carrier Access Act (ACAA) states that airlines are prohibited from discriminating against passengers with disabilities. They must allow disabled passengers to bring their service dog with them without additional fees or deposits. This post will help you plan your trip and make all the preparations to minimize your stress as much as possible.
In this article
    1.2. Contact the customer service of your airline 
    1.3. Identification and documentation
    1.5. Leave useful information on your dog tag
    2.1. Feed your service dog in advance
    2.3. Check in your dog at the ticket counter
    2.5. Be courteous to the security crews
    2.6. Treat other passengers politely
3. After reaching your destination
Before traveling  
Although service dogs are allowed to travel with the owner, you should nevertheless pay attention to all preparations.
1. Book a ticket  
Booking a ticket is the key to a safe and comfortable trip with your four-legged friend. You should consider a number of factors as follows:
•  Direct flights: A long trip can cost your service dog a lot of energy and affect his ability to work. It is recommended to shorten the travel time by selecting a direct flight.
•  Weekdays: In order to avoid busy travel times, you should choose a flight on a weekday, as the airport will be less busy than at weekends and during vacations. 
•  Airline Pet Policy: Although the Department of Homeland Security's Transportation Security Administration has punished guidelines for flying with service dogs and assistance dogs, the interpretation of the individual airlines differ with respect to certain details, such as the size of the carrier under the seat in different aircraft.
•  Local regulations: If you plan to travel internationally, be aware that service dogs may need to be quarantined, depending on your destination. Check local pet regulations or confirm with your airline about the latest policy.
2. Contact the customer service of your airline   
In order to have pleasant flight experience, you should inform the airline's customer service about your service dog after booking a ticket. Your airline will arrange a spacious and convenient seat for your dog and you. It is best to make a reservation at least 48 hours before the flight because some airlines have limited the number of assistance animals.
3. Identification and documentation  
Airlines may require some form of proof that your dog is indeed a service dog and not a pet. If you are taking an international flight, you are also required to prepare a health certificate of your service dog. Documentations you may need are:
•  Service Dog harness, collar, or vest
•  Medical letter indicating your condition and the assistance of your service dog
•  Dog vaccination certificate
•  Dog Health certificate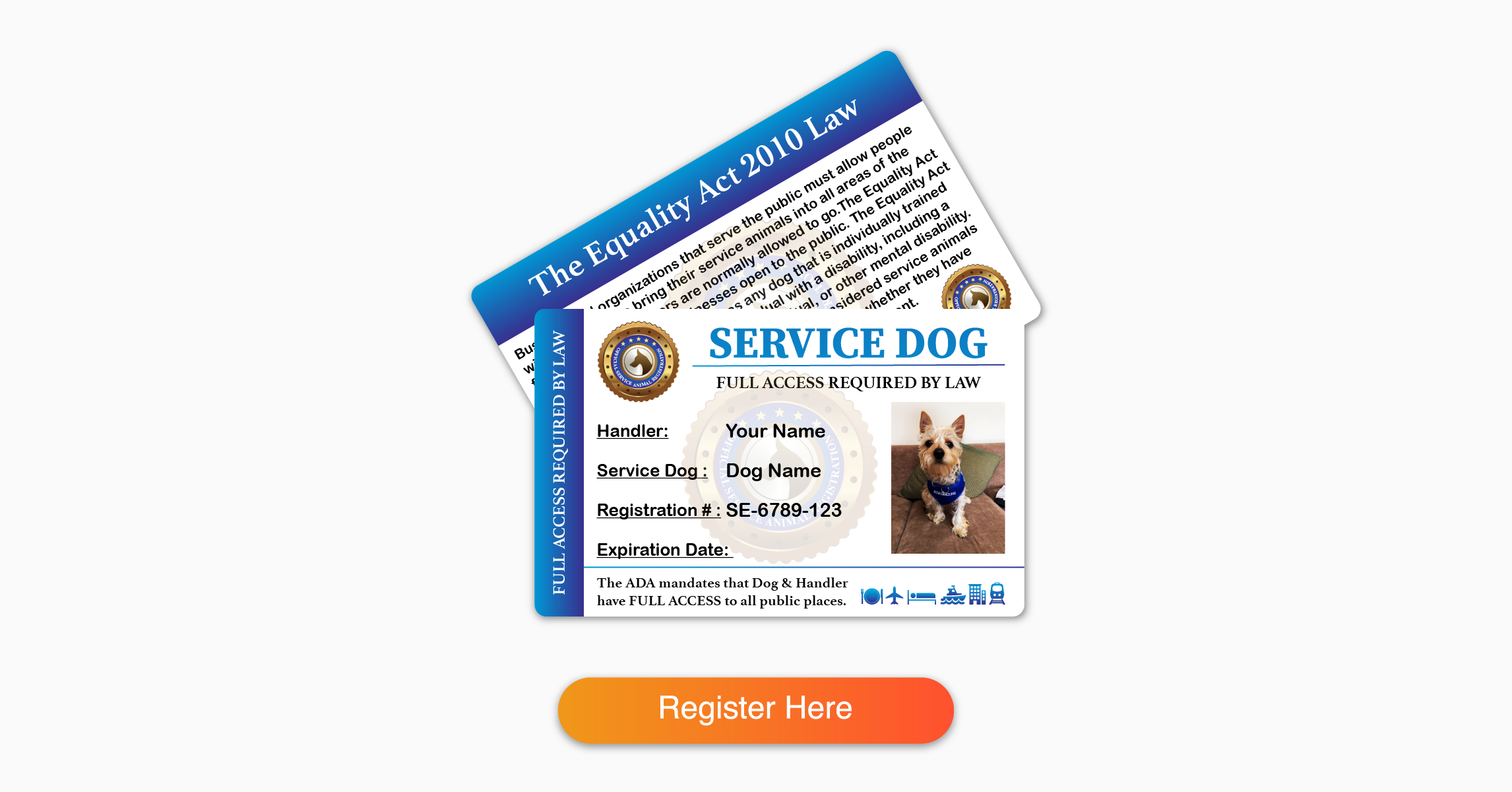 4. A soft carrier  
If your service dog is a small breed that can sit under the seat in an aircraft, you are allowed to put your service dog into a soft carrier in the cabin. However, it is advisable to read carefully your Airlines' Pet Policy regarding size restrictions to check whether your carrier will fit under the seat.
5. Leave useful information on your dog tag  
Although your service dog is well trained and obedient, you should prepare a tag for your pup on which your data (name of you and your dog, phone number and address) are noted. Tie it on both the carrier and the dog collar/harness, in case of getting lost. You could also enter the information of the person who can get in touch with you at the destination.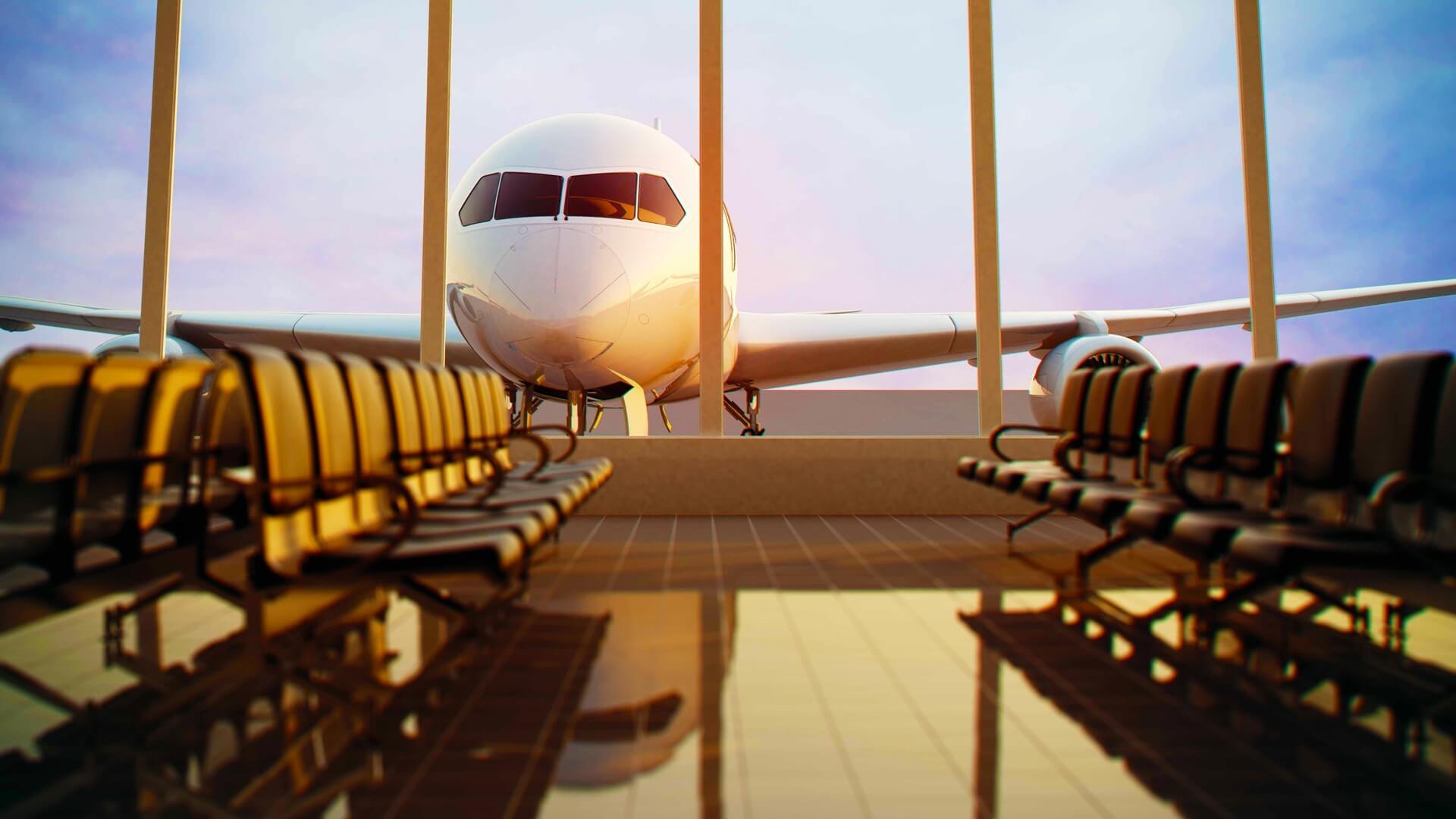 Day of Travel  
On the day of your journey, you should arrive at the airport 2 to 4 hours before boarding. Not only should you have all the documentation of both you and your dog helper at hand, you should also carefully check out all the procedures below.
1. Feed your service dog in advance. Since dogs may not be able to adapt to the motion during the flight, you should not feed your dog within 2 to 4 hours before traveling in case he feels uncomfortable with a full stomach. However, it is necessary to feed him a medium amount of food at least 3 hours before take-off, so he has enough time to digest the food and avoids accidents due to hunger. Keep in mind that water is important and available during the trip. Bring a collapsible water bowl into the cabin and feed him regularly with water. 
2. Take a long walk. After eating the last meal before the trip, you should take your service dog outside for longer than his daily walks to empty his bladder as much as possible. If your service dog is active and energetic, a long walk can consume some of his energy and make him calm down in the narrow passenger cabin. 
3. Check in your dog at the ticket counter. As the airline personnel of check-in counter will add your dog's information on your ticket, crews at security check and when boarding will be aware of your canine helper. It was found that the self-service check-in machine cannot perform this step. We recommend that you check-in 1-2 hours before the flight. The personnel may ask you some questions about your service dog and require you to provide the relevant documentation.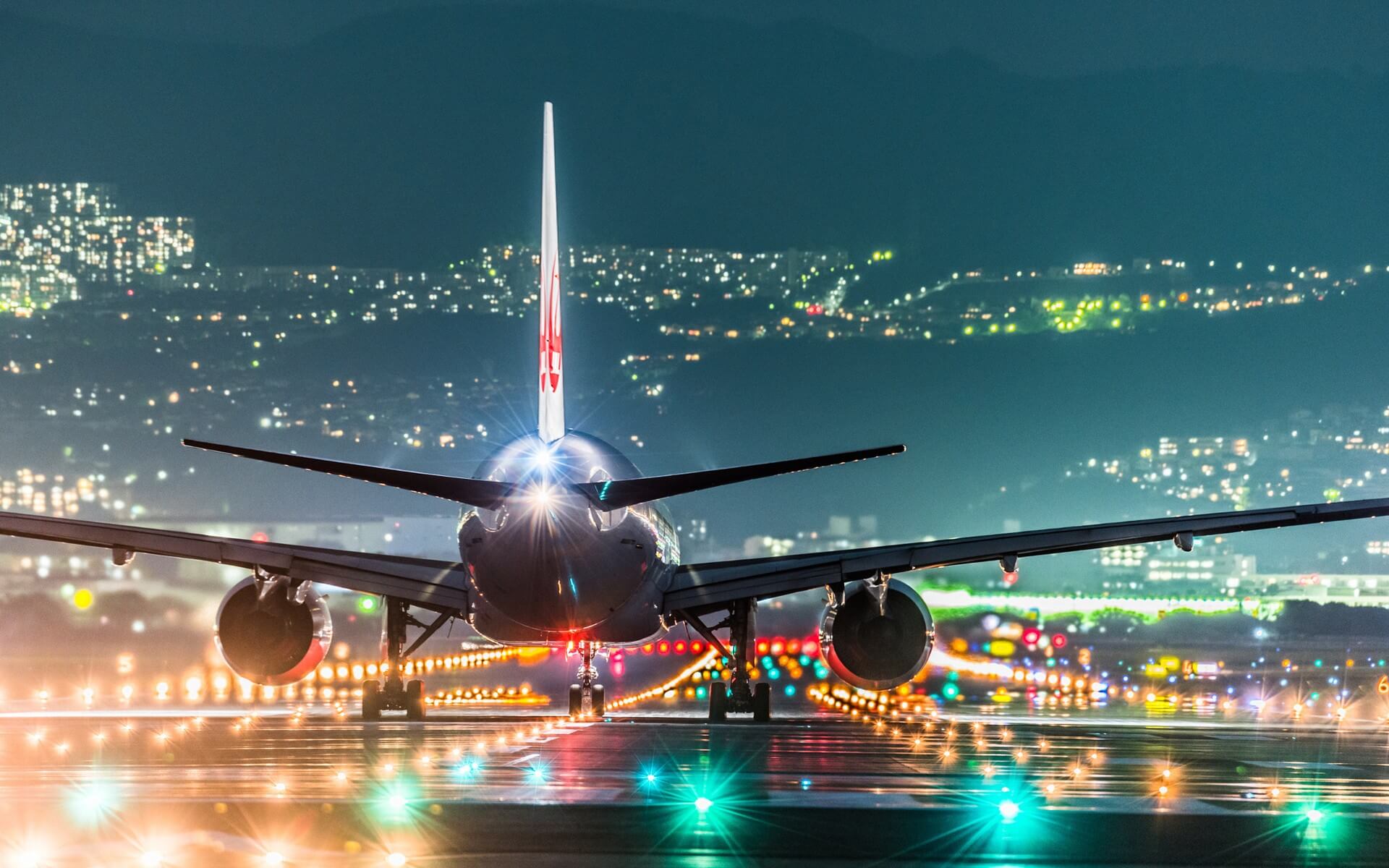 4. Final bathroom break. It will take a long time and be difficult to find a good place for dog potty once you have passed the security check. Most airports have a pet relief area, post-security, where passengers can take their pets for doing their "business". However, some airports have also pet relief areas inside the terminals before the security check. You can have this confirmed in advance through customer service or online guidelines. 
5. Be courteous to the security crews. It is advisable to keep your service dog on a leash while you go through the security check. Teach your dog to be friendly to the security officers and politely explain about your service helper. Normally, they have been trained in the treatment of assistance animals and their owners. 
6. Treat other passengers politely  
Follow the attendants when boarding to your reserved seat. Place your furry friend on your lap or under the seat. Ease his stress by offering delicious treats and praise. However, make sure your service dog can respond well to your commands and does not urinate in the cabin. Although your service dog is very obedient and well trained, some people still feel uncomfortable around animals. If you behave politely and respect other passengers at the airport or during the fight, you will leave an excellent impression and make things easier. Do not abuse the privilege of having a service dog to offend other people. Remember, how your service dog and you behave is an example of all service animals. 
After reaching your destination  
Once your plane has landed, it is time to bring your dog again to a pet relief area or directly take a long walk outside before heading to your hotel to get your pup to quickly familiarize with the environment. It is recommended that you book a hotel and inform it about your service dog before your arrival, so that they have enough time to arrange a suitable room for you or prepare certain pet supplies for your pup. Hotels cannot charge you for pet fees and discriminate against your service dog due to your invisible disability. Search online for reputable hotels and find out in advance about their pet rules.