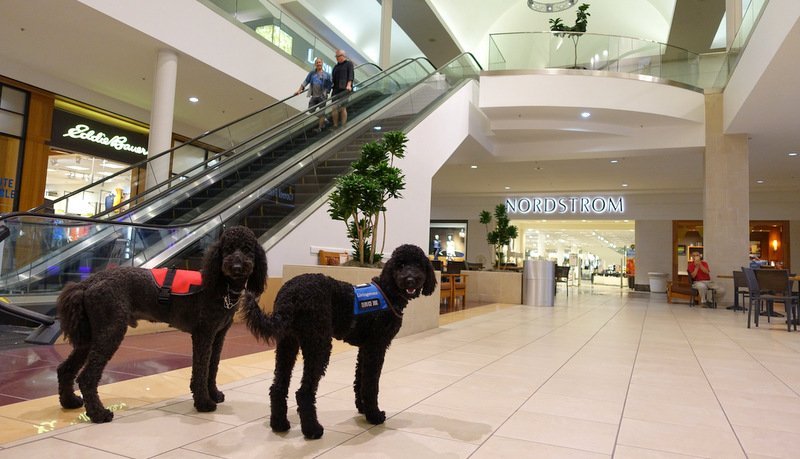 With the exploding ownership of pets in the US, more and more businesses have become animal-friendly. Apart from small or family-owned businesses, you find that a growing number of retail stores or shopping malls have a sign in front of the window: "No dogs except service dogs allowed." The number of pets has greatly increased in recent years, which promotes the establishment of the pet industry and builds a large industry chain, including pet foods, toys, supplies, clothes, courses, and pet-friendly restaurants, hotels, and shops. Today I will talk about shopping with your dog.
In this article:
1. Is shopping with your dog a simple matter?
2. How should you prepare your dog?
1. Is shopping with your dog a simple matter?  
For people, shopping seems to be a relaxing and enjoyable way to spend time. For pets, it is an expectant and exciting thing to go outside with a dog handler. However, it is not easy to go shopping with a pet. For most animals, it is probably scary to come to places with many people for the first time. This is also a threat or intimidation for humans. The place full of strangers and activities, new smells and unfamiliar sounds will increase anxiety and insecurity. By contrast, dog's growling and gnashing of teeth could bring unpleasant and stressful feelings to other customers. In some grocery stores, dogs might be attracted to the tasty food and mess up the shelves. Therefore,  to avoid some unnecessary troubles, many retail stores are off limits to dogs.
However, some well-behaved dogs, such as service dogs and therapy dogs, are allowed to go with their carers in shopping malls or shops, although on the door is a "No pets" sign attached. The question of whether or not I can shop with my dog depends on the manager's decision in different shops. They prefer dogs that are friendly and socialized.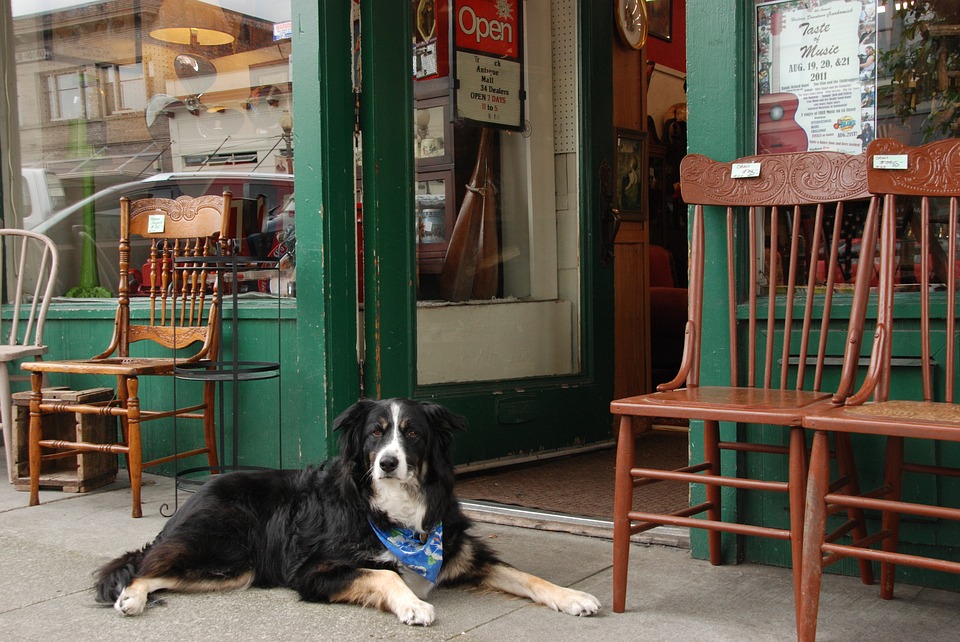 2. How should you prepare your dog?  
Going into a crowded place is a new experience for a dog, so it is best to train it as a puppy step by step.
First, spend time with many people outdoors. If your dog is accustomed to walking on a leash in a peaceful park, you can take him into an area with lots of pedestrian traffic and take him for a walk there. As he can gradually get used to mingling with strangers, try to approach the outskirts of shopping malls so he can experience its smells. Then you can walk the same route with him several times until he stays calm and comfortable by your side in the crowd.
Second, now it is time to go inside. These days, more and more shopping malls welcome customers with dogs. To reduce the dog's anxiety, it is best to visit the malls when they are not too busy. After receiving the permission from the staff or the guard, you can visit the indoor mall with your dogs, but can not enter any shops yet. Walk with him on a leash and let him become familiar with the smells and activities until he calms down without aggression.
Third, go inside a store. It is recommended to start with a store he is interested, such as a pet store. He will feel familiar and comfortable with the smells of food and toys. Once he has presented himself in a friendly and calm manner, it is time to explore the other areas like the supermarket and clothing stores.
Although many large retailers have dog-friendly policies, this does not mean each branch implements the rules. It is better to call the branch before visiting it with your dog.

3. Dog-friendly stores  
Here is a list of dog-friendly stores/shops for your reference:
1) Clothing Stores  
Anthropologie
Banana Republic
bebe
Foot Locker
Free People
Old Navy
GAP
Urban Outfitters
2) Department Stores  
Bloomingdale's
Macy's
Nordstrom
Saks Fifth Avenue
3) Pet Shops  
Petco
PetsMart
4) Other shops  
Barnes & Noble