One of the favorite activities of every dog owner is spending joyful time in a park with their furry friend. This activity requires many dog handlers to make some considerations, especially when deciding to take their pets to a national park. This article will help you take a closer look at some regulations of the national parks in the US that need to be considered, as well as help you plan your next visit to a national park with your fluffy friend.
Fortunately, many national parks allow the presence of a pet on their territory. Before traveling you might want to check the park's website, you are interested in, for more detailed information in regard to their pet policy.
1.

 

National Park Regulations
There are some strict rules and prohibitions that everyone has to follow according to the National Parks Regulations on Pets.
• You are not allowed to possess a pet in a: "public building, public transportation vehicle, or location designated as a swimming beach, or any structure or area closed to the possession of pets by the superintendent".
• It is important to mention that the restriction above shall not apply to guide dogs accompanying visually impaired persons or hearing ear dogs accompanying hearing-impaired persons.
• Your dog should be on a leash that does not exceed six feet in length, or otherwise physically restrict the pet at all times.
• You should not leave your pet "unattended and tied to an object". An exception is the areas special designed for this purpose and conditions set up by the superintendent.
• You need to pay attention to the dog's behavior, as he/she is not allowed to bark, howl or make noises that are considered unreasonable depending on the location, the other park users, and the time of the day.
• You need to comply with the conditions set up by the superintendent in regard to excrement disposal.
• If your dog is running free it may be impounded and fees may be charged. If the handler does not look for his pet within 72 hours from the time of capture, the pet may be put for adoption or disposed of.
2. B.A.R.K principles
In order to ensure a safe and joyful visit to your favorite national park, you can learn the "B.A.R.K". principles. They are easy to follow and do not need a lot of preparation:
- Bag your pet's waste
- Always leash your pet
- Respect wildlife
- Know where you can go
3. Pet-Friendly National Parks
If you struggle deciding which park to visit, here are some recommendations that may be helpful to you:
Acadia National Park, Maine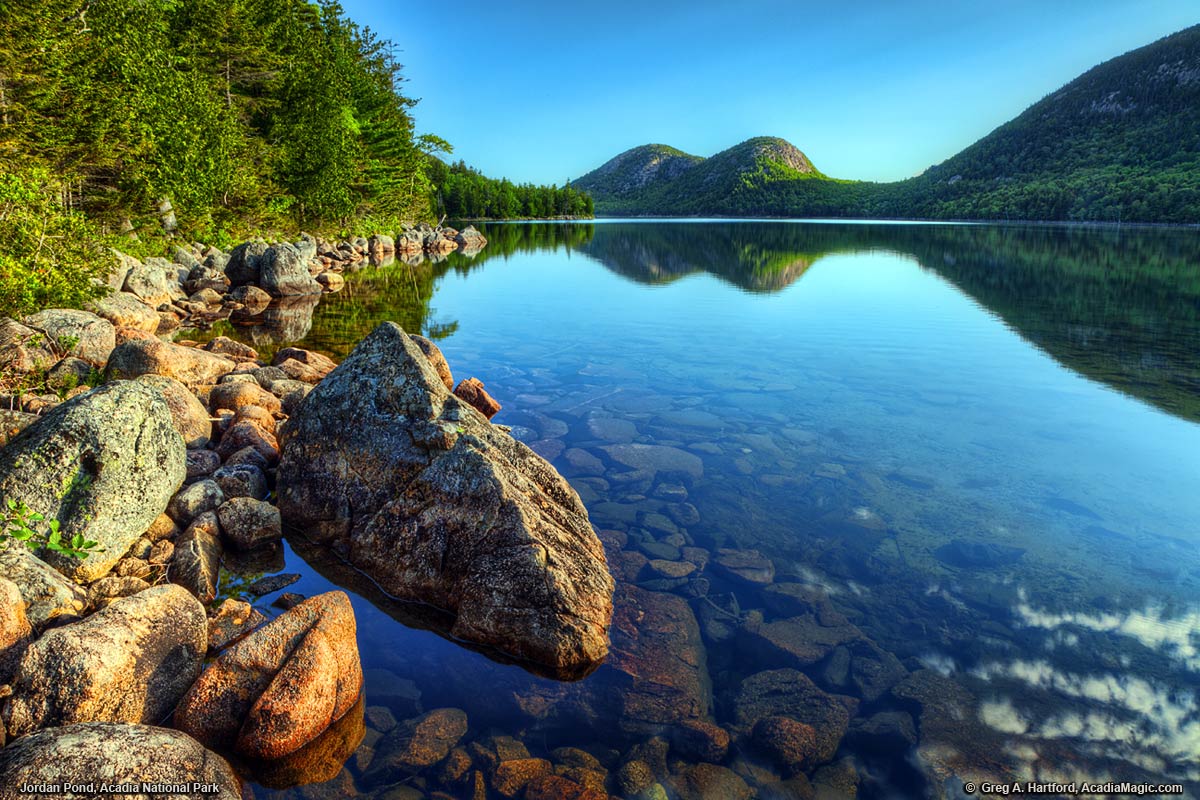 One of the best options for you to visit with your furry friend is Acadia National Park. Although the park is not among the biggest parks in the US, it is very pet-friendly. It offers 47.000 acres of beautiful shores and hiking trails. You can explore at least 45.000 acres of carriage roads with your dog partner. Your pet can enjoy 100 miles of hiking trails. Some of the most popular trails, suitable for dogs are Wonderland Trail, Bar Island Trail, and the Cadillac Summit Loop. Three campgrounds can be visited by you and your dog as well. If you want to take your dog on an adventure, you can try Cadillac Mountain South Ridge Trail, Precipice Trail, and Beehive Trail, for a more challenging hike. Among the beautiful landscapes and diverse wildlife that Acadia Park offers, there a lot of pet-friendly accommodation options. Of course, you do not have to forget to keep your dog on a leash.
Shenandoah National Park, Virginia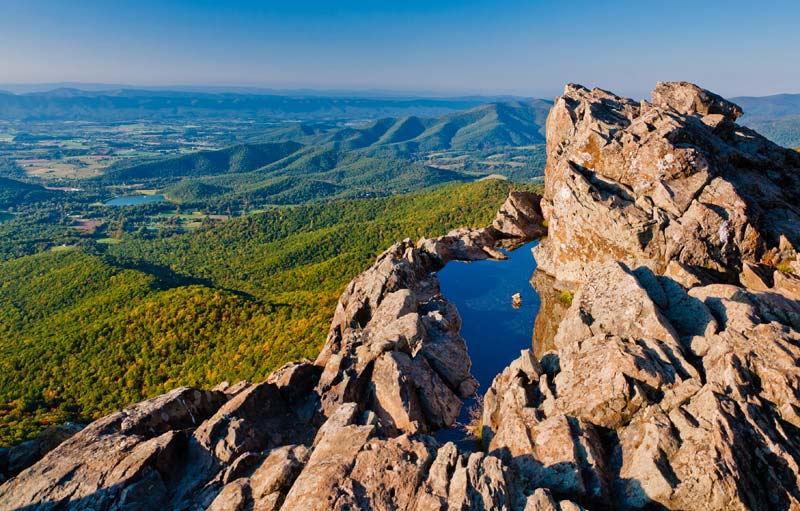 One of the most pet-friendly parks in the US that we recommend is the Shenandoah National Park, Virginia. With its beautiful dog hiking trails of at least 500 miles this park gives you the opportunity to explore the Blue Ridge Mountains with your furry friend. The park has a good location, as it is 90-minutes away from the city, it offers pet-friendly campgrounds resorts, and accommodation options. Only a part of the trek which is about 20 miles can not be considered pet-friendly, as dogs are not allowed on it. You and your pet friend can enjoy amazing views of the Appalachians. You can reach the summit of Hawksbill Mountain, which is the highest point in Shenandoah National Park. It is the highest point in both Madison and Page counties as well.
Mammoth Cave National Park, Kentucky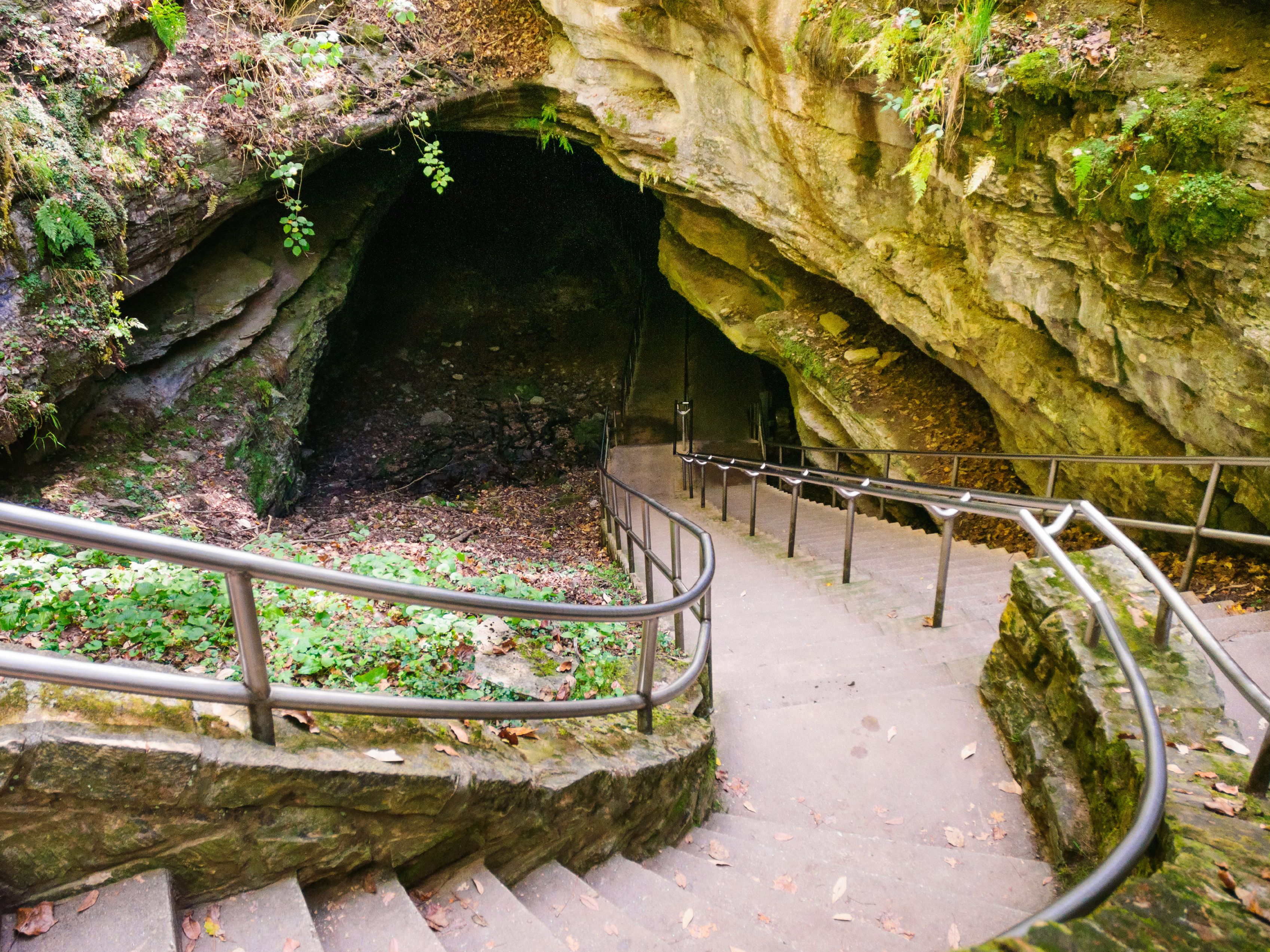 The Mammoth Cave National Park is situated in west-central Kentucky, that surrounds parts of Mammoth Cave, the longest cave system known in the world. The park offers 70 miles of trails that allow dogs and it is considered one of the most pet-friendly parks in the US. Including an area of almost 53.000 acres, you can enjoy many activities, among those are: kayaking, hiking, and viewing the beautiful Nolin River that flows in the Green River through the park. However, when it comes to visiting this place with your dog, you will be happy to know that the dogs are allowed on the park's trails. You need to remember to keep your furry friend on a leash and to not let him enter the park's caves, as that is not permitted.
The Woodland Cottages are the only in-park lodging that has pet-friendly rooms. You and your dog partner can check out the Green River Bluffs Trail, through the hardwood forest, that ends with a beautiful overlook of the Green River. If want to go on an adventure on a longer trek option, you may enjoy the North Side Trails, which go through waterfalls and cut through one of the old-growth forests in Kentucky.
Grand Canyon National Park, Arizona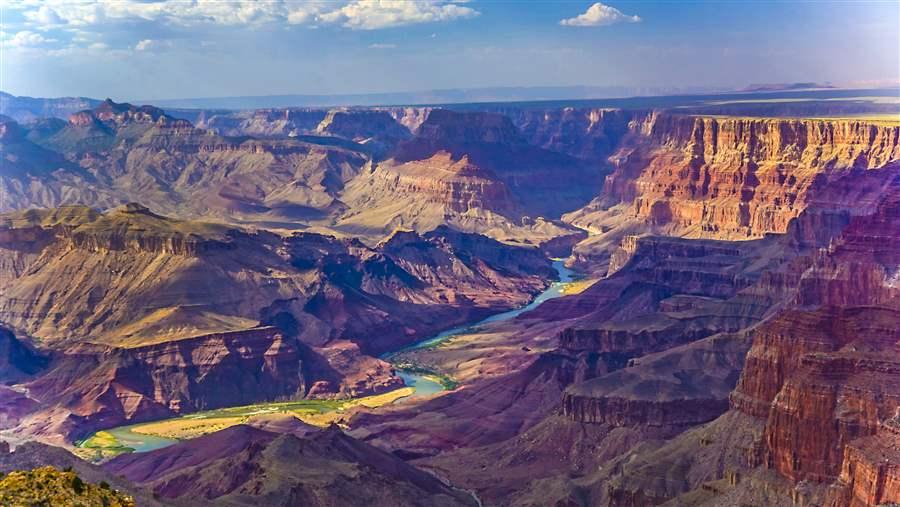 The Grand Canyon is one of the most attractive destinations for many people, who want to spend a joyful time outdoor with their fluffy friends. The Canyon is 277 miles (446 km) long, up to 18 miles (29 km) wide, and attains a depth of over a mile.  It is considered one of the most pet-friendly national parks in the US. However, every dog handler should keep in mind that the presence of their fluffy friend is not allowed below the rim of the Grand Canyon.
The hiking trails above the perimeter, incl. the South Rim Trail is very suitable for a saunter with your pet. On the South Rim, you can take your dog partner for a walk on all trails above the rim, incl. the Rim Trail.
One of the biggest advantages for every dog handler is the kennel for dogs near the South Rim Trail, as it is attached great importance to safety. Some of the campgrounds do not permit the presence of dogs, as well, i.e: Mather Campground, Trailer Village, and Desert View Campground. Your furry friends can also enjoy all developed areas.
Yosemite National Park- California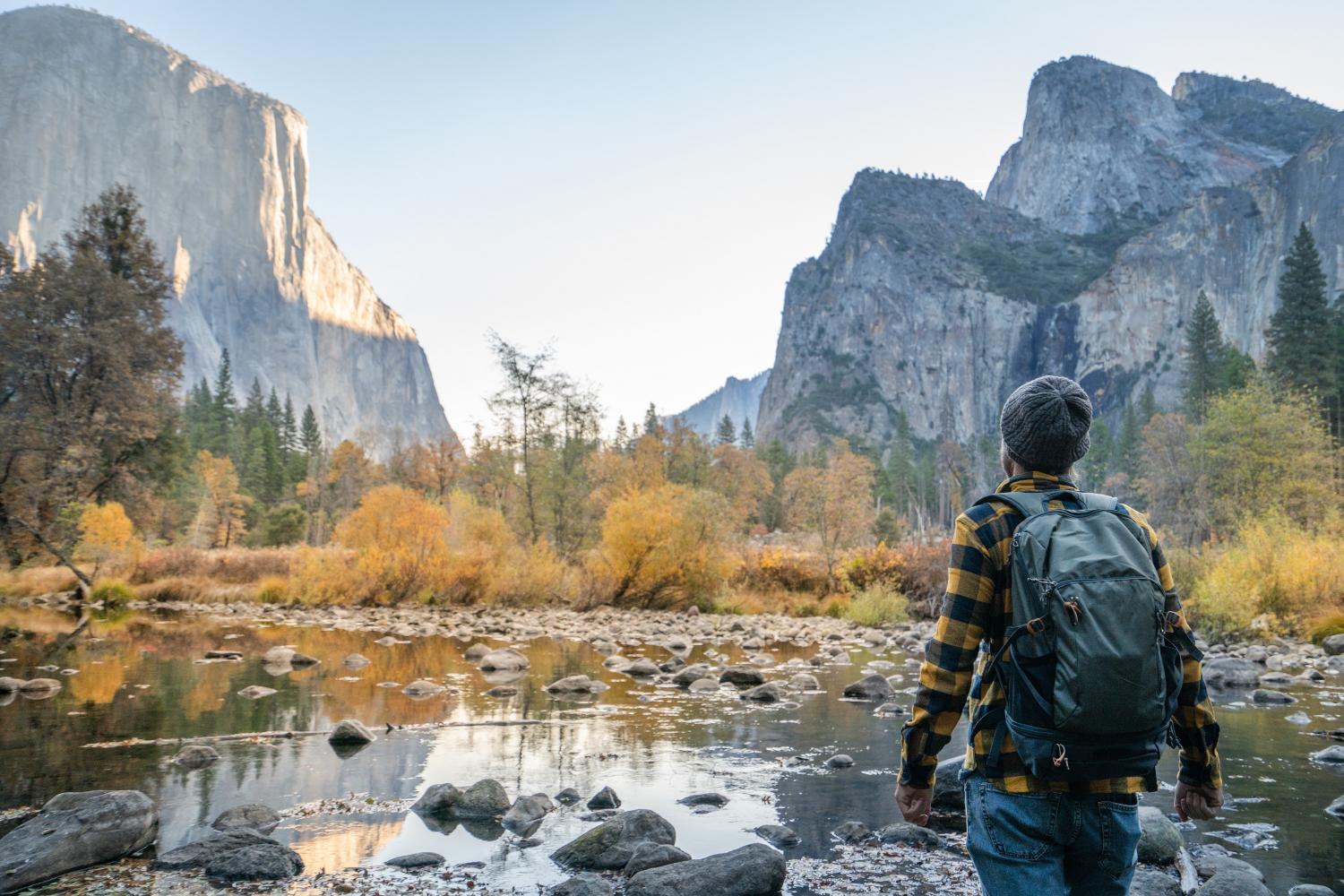 The 1,189 sq mi park contains thousands of lakes and ponds, 800 miles of hiking trails, 1,600 miles of streams, and 350 miles of roads. Merced River and the Tuolumne River begin within Yosemite's borders and flow into the Central Valley of California. If you have decided to spend some valuable time with your fluffy friend you need to keep in mind in which areas the pets are allowed:
-In developed areas where you can enjoy spectacular views;
-On any paved or boardwalk trails, i.e: Bridalveil Fall, Lower Yosemite Fall Loop, and Cook's Meadow, roads, sidewalks, and bicycle paths, (except when signed as not allowing pets);
-In all campgrounds except walk-in campgrounds and in group campsites.
Your dog is not allowed on trails, including the trail to Vernal Fall (however, pets are allowed on the Wawona Meadow Loop).
It is important to remember that pet food is also bear food and you should store the pet food as if it were human food. A dog kennel, operated by Yosemite Hospitality can be used from late May through early September.  However, you need to provide proof of immunizations.
Congaree National Park, South California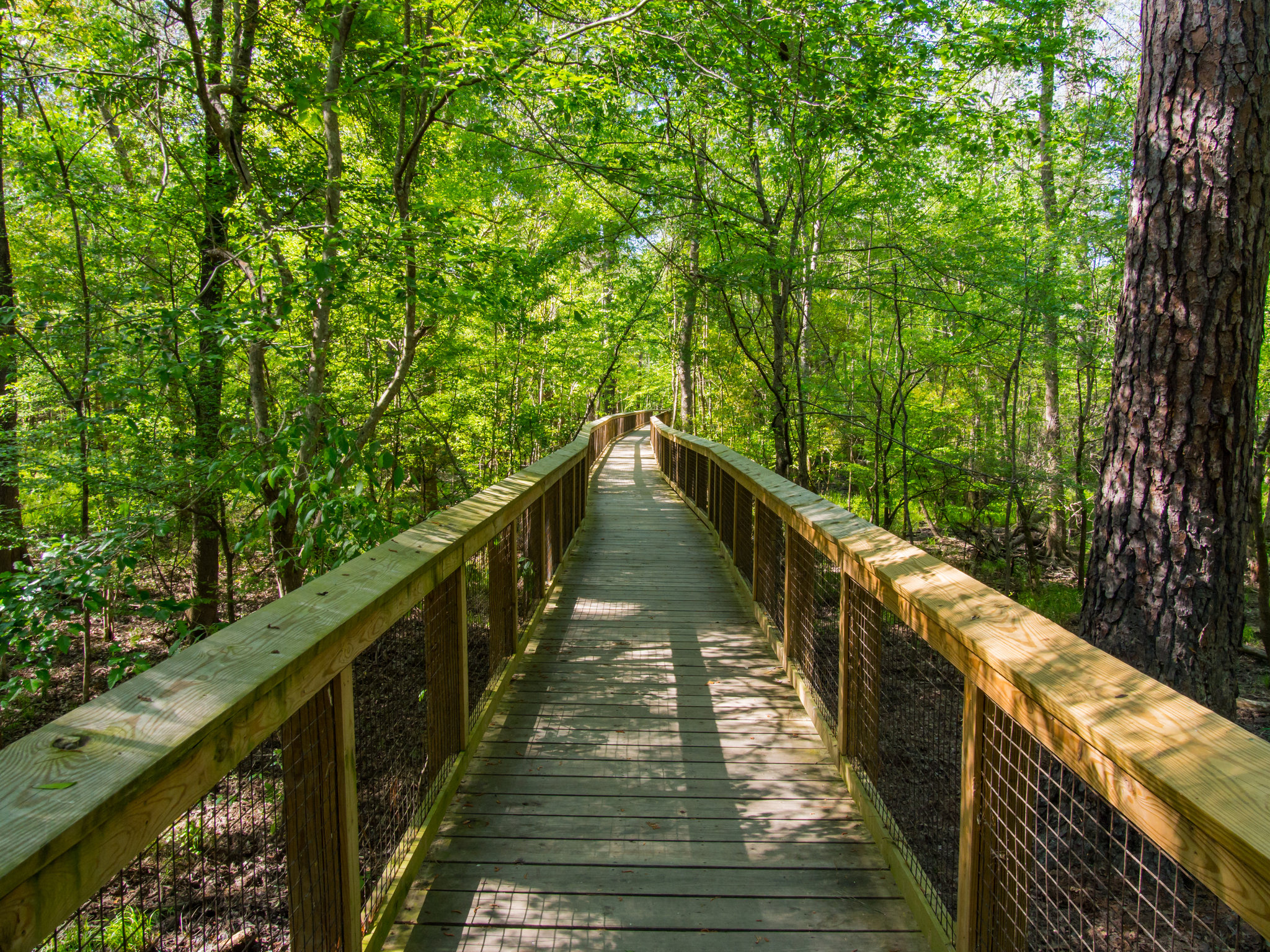 Congaree National Park is an approximately 26.200-acre American national park in central South Carolina. It takes care of the largest area of old-growth bottomland hardwood forest left in the US. You can enjoy 15.000 acres of wild area and the beautiful Congaree River that flows through the park. The park is one of the most dog-friendly parks in the US, as dogs are allowed basically everywhere- on the campgrounds, on all trails, including the boardwalk. You can choose among many trails, ranging from as short as approximately 0.5 miles to as long as 11 miles.
4. Are Service dogs subject to the same regulations in national parks as pets?
The answer to this question is No. Service animals are not considered pets, respectively they are not subject to the pet regulations of the park. In 2018 a new policy in regard to the service animals was issued by the National Park Service (NPS). Service animals are allowed access to all areas of the park, including lodgings, restaurants, trails, and attractions. They are legally permitted anywhere that visitors can go.